Ascot Commercial Group is a premier corporate and commercial interior design company in Australia.
With more than 40 years of experience in the design industry and a long list of clients, our consultants have the experience and resources to create functional, environmentally conscious and professional interiors for all industries.
Our business is family managed and owned, and has a singular focus – to satisfy the needs of each of our valued customers – whether large or small. Our custom design process has a consultative approach, and our interior designers work with you to design the best fitouts and furniture to suit your space.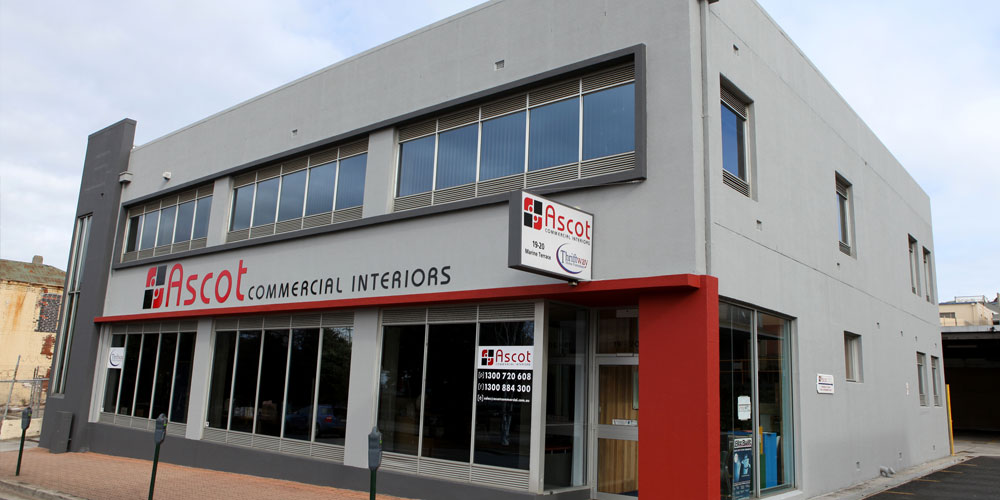 PROJECT MANAGEMENT
Project management is an integral part of the success of the Ascot model, enabling a smooth and efficient transition from concept to completion.
Ascot project manages all our contracts from early concept through to core construction. We organise required permits and approvals where required and co-ordinate all the various trades, removing the risk and pressure for our clients.
OFFICE INTERIOR DESIGN
Ascot specialises in designing office fitouts which reflect and reinforce your organisation's image, and inspires your employees.
Our interior designs can support your individual work process, improve overall productivity and maximises staff potential. Ascot develops workspaces that support various work modes, encourages employee collaboration, communication and social cohesiveness.
WORKPLACE STRATEGY
Workplace strategy is about analysing your business and its intersection with technology, people and physical space, and creating a strategy to maximise your performance and utilising your physical environment to deliver a significant competitive advantage for your business.
Developing a workplace strategy is essential in order to adapt to
WORKPLACE TRANSITION
In order to keep growing, our businesses must become flexible and evolve with the changing market.
Churn management can be described as the action we take in response to changing service delivery and functional requirements. Reasons for this can bel organisational restructure, innovative technology, a need for increased efficiency, and change in work patterns.
PROPERTY EVALUATION
A spatial assessment of your current or proposed premises will help assist in achieving optimal results in your workplace.
Ascot will undertake a detailed study and analyse your space, transforming any possible restrictions to opportunities. Using our understanding of how people work, where activity will be centred and how to group different departments in order to encourage collaboration,
Step 1
Consultation
---
Client consultation and briefing to understand specific client requirements.
Step 2
Appraisals
---
Workplace and furniture appraisals, developed to increase staff morale.
Step 3
Planning & Design
---
Interior space planning and design - to allow maximum flexibility.
Step 4
Concept 3D Visualisation
---
Concept 3d Visualisation and finishes to allow full client input.
Step 5
Landlord's submissions
---
Landlord's submissions if required.
Step 6
Approvals
---
Mechanical, electrical and engineering approvals.
Step 7
Building Permit
---
Building permit applications and necessary approvals.
Step 8
Client sign off
---
Specification writing and tender documents for client sign off.
January 17, 2019
The modern business environment demands creativity and innovation. But what's the best way to spark them? Create communal space Ideas often come from collaboration. In fact,
[…]
July 22, 2018
In today's competitive commercial environment, it's crucial for your office space to promote a strong, recognisable brand. For most companies, a strong brand means having fantastic
[…]
May 8, 2018
How do modern companies foster a sense of belonging for individual staff? In this new era of digital-first agile workspaces, personalisation is frequently overlooked for uniformity.
[…]