[one_sixth][chart percent="100″ label="" icon="" image="http://www.ascotcommercial.com.au/wp-content/uploads/2017/09/headshot-half-body-150×150.jpg" title="By: Beth Barrett" line_width="6″][/one_sixth]
Are you often questioning whether your workspace allows your team to be as productive and engaged as possible? Maybe you already know that issues like a bad floor plan or unsuitable lighting are playing a role in keeping morale down a notch. Fortunately, in 2017, office managers and executives have access to more options and research than ever before when it comes to introducing a better space for higher workplace productivity.
In this post, we're looking at the office design 'non-negotiables'—those design features and fit-out solutions that you must consider if you want your team to perform well and feel good at work.
For many businesses, your staff is considered your number one asset and the key to business growth. We spend a high proportion of our time in the workspace, which means it's in everyone's interests to make that time as comfortable, warm and stimulating as we can.
1. Let there be light (and plenty of it)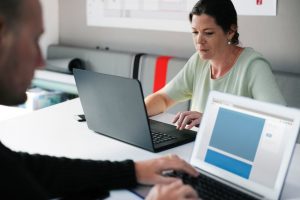 The human brain only functions optimally when it gets exposed to natural light in the daytime. Research can now back up what our ancestors already knew. So if your office hours include anything close to 9-5, it makes sense that you'll want to create as much opportunity for sunlight to get into the space as you can.
If you're working with an existing space and you're stuck with a less-than-perfect aspect or floorplan, you'll need to be particularly strategic.
It's best to prioritise workspace interiors and high-traffic meeting areas to have more natural light. As a result, your lesser-used spaces like the kitchen, bathrooms and internal meeting rooms would have less natural light if necessary. For artificial lighting, go for adjustable options including multiple sources. For happy employees who are more productive, avoid light that's too dim and try to minimise the chance of glare.
2. Invest in the ergonomics
Ergonomics is really just a sophisticated word to describe the practical ways we make spaces safe, healthy, happy and comfortable for humans to be in. It often takes expert interior workspace specialists such as Ascot to design a successful fit-out with a good flow for the type of workspace, size of the office and specific needs of the staff.
Accessibility is also a key consideration for many workspaces and it's something that makes sense to implement if the space allows for it.
Ascot has always led the way in ergonomic spaces, strictly adhering to Australian Standards including recommendations from the National Occupational Health and Safety Commission. But office fit-outs and design are best when customised to your company's unique needs. Ultimately, we take a common-sense approach to designing spaces that can improve staff morale and productivity.
It could be beautiful, high-tech and sleek, but if your fit out and furniture including desks and office chairs are causing your staff discomfort, they're a waste of money.
3. Be mindful of work style preferences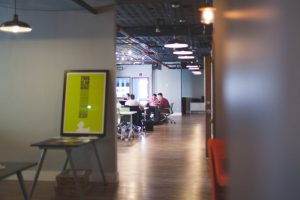 For every social butterfly in a workplace, there's another who'd much rather be a hermit in silence. While we can't always work in the exact work environment we'd like, modern workspace interiors are accommodating for a variety of diverse preferences.
Activity-based offices are different to the popular hot-desking set up. They're designed to allow staff to move freely around the space and settle into different areas according to their activity they need to complete, effectively boosting workplace productivity. There might be a silent reading and work area for instance. Depending on your organisation, it could be a direction to consider. Consider the pros and cons of activity-based interiors and then discuss your plan with an experienced office interior design and fit-out specialist.
If any of these solutions spark your interest, you can reach out to our team at Ascot Commercial Group. We specialise in commercial interior design and have successfully helped many varied businesses create productive spaces over four decades.[divider height="60″]
Reach out to our expert team at Ascot Commercial Group today on 1300 720 608.
Or arrange a site visit with one of our consultants.
[divider height="30″]