[one_sixth][chart percent="100″ label="" icon="" image="http://www.ascotcommercial.com.au/wp-content/uploads/2017/09/headshot-half-body-150×150.jpg" title="By: Beth Barrett" line_width="6″][/one_sixth]
Interior designer. Architect. Draftsperson. Decorator. With so many different options when it comes to creating and improving office interiors, it's hard not to feel completely overwhelmed from the outset. In this post, we'll run through a few basic definitions to guide you through the process. You'll also get a better idea of how we work at Ascot Commercial Group. To begin, let's have a look at the main differences between an architect and an office fitout specialist or designer (like the team at Ascot).
Keep in mind that this isn't an exhaustive list of roles at all. There are countless additional consultants you could potentially hire to be involved in your office design or office redesign project (engineers, specialist colour consultants, the list goes on…) but here we'll focus on just these two major roles.
The Office Fitout Specialist/Designer
If you are hiring an office interior specialist, you may struggle at first with the lack of a single defined term or title for what they do.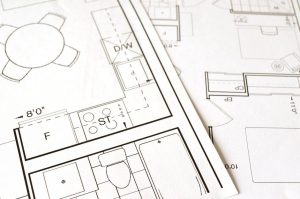 In reality, each company offering commercial interior design and office fitouts will be slightly different, with varying levels of expertise and service offerings. It's most likely though that a reputable team such as Ascot will offer many years' experience specifically working on commercial interiors. A great commercial interior designer will have exceptional research capabilities combined with the right experience to design and deliver the perfect workspace for your team.
Many if not all professionals who fit the title of commercial interior designer will have skills and experience in:
Drafting plans and drawings through CAD or 3-D design technology
Spatial assessment and planning
Furniture and amenities sourcing and fitout
Office space risk assessment
Design and decorative consultation
Following relevant state and federal workspace design regulations
The Architect
If you are hiring a licensed architect, they will be "board certified" which means they are legally able to complete work using the title of 'architect'. What does this mean? To be board certified, and architect must have:
An architecture university degree (usually 5 – 6 years of study)
A minimum level of practical work experience (2 years)
Successful completion and passing of architecture exams
For their registration to be renewed annually, an architect has to also make a formal declaration that they are fit to practice, and are furthering their professional development with a required number of hours of study and learning (these could be courses, study tours, online learning, etc.)
Architects study for many years to be able to practice their trade. There are a number of good reasons for this, particularly for when it comes to the diverse architectural work that is available and the skills required for some of these projects. But at Ascot, we'd encourage you to consider the alternative—an office fitout specialist with commercial interiors experience. This choice can truly determine the success of your office interiors project.
So why hire an office fitout specialist instead of an architect for your office interior design?
Experience
At Ascot, one thing is for certain: we specialise in commercial and office designs and fitouts only. That means we're highly experienced in an important niche and now how to deliver successful office fitouts that truly meet your design needs. We've delivered countless office interiors projects across Melbourne and beyond— on time, on budget, and to the highest of design and regulatory standards.
Flexibility
Our team is focused above all on the happiness of our clients. We don't come into any project with a defined vision until we have a complete grasp of your needs and design preferences. We'll then strategise, design and put forth our professional recommendations, working with your team to come to a mutual plan that works for you.
Service
Our clients often make note of how friendly and accessible we are at Ascot Commercial Group. We won't charge an extra "consultation fee" every time we speak on the phone and we wouldn't dream of calling a job finished until you and your team are completely satisfied with the results of the fitout and design. For us, the work we do in commercial interiors is about you and your company, not about us as the designers.
Budget
Commercial architectural costs are complex and the fact is that architects demand some hefty fees. Whether or not the cost of architectural fees is justified for your project is a judgment only you can make. We can assure you that at Ascot Commercial Group, budget and fees are discussed transparently and clearly throughout the entire process so that there are no nasty surprises.
Thinking an office fitout specialist is the right choice for you? If so, you can reach out to our team at Ascot Commercial Group. We specialise in commercial interior design and have successfully helped many varied businesses design and create fantastic office interiors.
[divider height="60″]
Reach out to our expert team at Ascot Commercial Group today on 1300 720 608.
Or arrange a site visit with one of our consultants.
[divider height="30″]